Tulsa Football: 2022 Recruiting Recap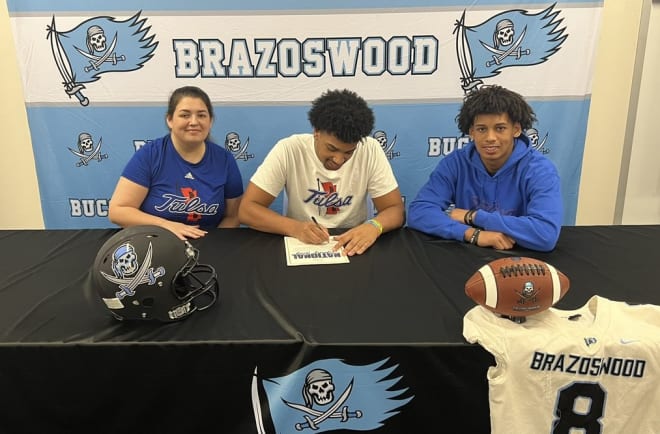 The Golden Hurricane received 15 total letters of intent for the class of 2022, including 12 in the early December signing period, and also added two mid-term D-1 transfers. The following is an in-depth recap of Tulsa's 2022 recruiting cycle, with focus on in-state prospects, battles with Power Five schools and AAC foes, as well as what's left for TU as they still have open scholarships.
"As a whole, I'm really excited about this class with the signees in December, some mid-year transfers and the additions today," said Tulsa head coach Philip Montgomery. "With what we've added on both sides of the ball and special teams, I thought we attacked some of the needs we had, and attacked it with getting good players.
"These are guys that have great length, can attack the field, whether that's as a receiver stretching the field and being dynamic with the ball in their hands, or as a defensive back being able to cover up guys and cover ground making the field seem small."
As expected, the three signees on February 2 were Beggs (OK) cornerback Kyron Grayson, Flower Mound (TX) Marcus tight end Connor Vaughn and Clute (TX) Brazoswood defensive end Vontroy Malone. Inside Tulsa Sports profiled all three prospects over the past two weeks, when they made official visits to TU. (See links at the bottom of this article)
The Hurricane had quite a flurry of activity in the last few weeks, with two official visit weekends (Jan. 21 and Jan. 28) and three commitments since January 26. Tulsa also extended several new offers, mainly to junior college prospects and D-1 transfers that are yet to make a decision. TU still has approximately seven open scholarships to fill.
Tulsa did lose one long-time commit to a Power Five school, as Tomball (TX) offensive lineman Landon Roaten -- who committed to TU in July -- switched his commitment to Washington State on January 25. The Hurricane tried to replace him by extending late offers to Pineville (LA) tackle Kaden Moreau and Fort Worth (TX) Paschal tackle Samora Ezekiel, but the pair signed with Louisiana and North Texas, respectively.
Tulsa is still looking to add to the offensive line, defensive line and a few other spots, as the regular signing period runs through April 1.
KEEPING OKLAHOMANS AT HOME
Philip Montgomery, like many past Tulsa coaches, emphasizes the priority of recruiting the state of Oklahoma's top talent. While he and his staff didn't sign a large number of in-state prospects this year, the ones TU did sign were some of the state's best.
Although there are only three in-state high school signees, two of them are listed in the Top 25 of the Rivals.com Sooner State Rankings: #18 Nunu Campbell (Holland Hall) and #25 Eli McWilliams (Tahlequah).
Rivals.com recruiting analyst Josh McCuiston was very impressed with both players.
"Campbell offers prototypical size at cornerback and was a key piece of Holland Hall's historically dominant defense in 2020," McCuiston said. "A defense that allowed less than six points a game on their way to a bludgeoning 12-0 season. Campbell attacks the ball like a receiver when it's in the air and has the size and physical makeup that could easily slide to safety if need be.
"McWilliams is a player that feels like he might be a touch low here in the rankings. He's a big guy with nice range and his length helps him sort through traffic far easier than most. He's an intriguing prospect who could see his notoriety rise."
The pair also ended up on the Daily Oklahoman Super 30 -- #20 Campbell, #26 McWilliams.
Tulsa's other in-state signee was Beggs defensive back Kyron Grayson, who helped lead his team to an 11-3 record and Oklahoma Class 2A semifinal appearance as a senior, earning OCA all-state honors.
"I think he had like eight interceptions his senior year, a bunch of those he returned for touchdowns," Montgomery said of Grayson. "You look at him go play basketball, and you know, just his quickness, being able to explode off the floor, to be able to do so many different things, we're excited about adding him and what he brings to our secondary."
The Hurricane also added Kentucky WR transfer Isaiah Epps, who played high school ball at Jenks.
BEATING OUT THE BIG BOYS
Over the last 20 years, the University of Tulsa has made a habit out of beating Power Five programs for a few prospects. Philip Montgomery has extended that impressive run.
TU beat out Arkansas, Colorado and Kansas for 3-star receiver Keith Wheeler from Humble (TX) Atascocita. He also held offers from Houston and UTSA.
The Hurricane beat out Washington State and Kansas for Tulsa (OK) Holland Hall defensive back Nunu Campbell. The 3-star prospect also held offers from Utah State, Ball State and UTSA. 3-star Tahlequah (OK) linebacker Eli McWilliams chose TU over Kansas State and several other offers.
TU went head-to-head with American Athletic Conference mates for three of its signees, beating out Houston and SMU.
WHAT'S LEFT FOR TULSA IN THE CLASS OF 2022?
After signing three additional high school prospects on February 2, Tulsa still has work to do, as the regular signing period runs through April 1. TU has 15 signees and two mid-term Division-1 transfers in the 2022 class, but the Hurricane still has around seven scholarships to fill.
TU coaches will fill those spots with the best available prospects from the transfer portal and junior college, although it's possible they could still sign more from high school.
In the past month, Tulsa offered D-1 defensive line transfers Lwal Uguak (UConn), Dre Butler (Auburn) and Lloyd Murray (Colorado) -- but all three have committed elsewhere. Since then, TU has offered Cal Poly DL transfer Myles Cecil and North Texas OL transfer Jacob Brammer.
The Hurricane has been active with juco prospects as well. TU went after East Los Angeles College DE Chace Davis and Trinity Valley DL Tavian Coleman, however, Davis signed with UTSA and Coleman signed with Utah State.
Tulsa has recently offered College of San Mateo DE Sekai Asoau-Afoa, Coffeyville College OL Ma'kyi Lee and Butler College OL Cooper Lovelace. Asoau-Afoa took an official visit to Tulsa on January 28. All three are yet to make a college choice.
ADDITIONAL SIGNING DAY NEWS